If you do a Google Search on the words, "orphan crisis" and read the first two or three headlines, it won't take you long to see statistics like, "150 million orphans" or 147,000,000 orphans or things like that. Really bad and really scary statistics.
But who really is an orphan? The definition that most big organizations (UNICEF) and others use as a way of attracting more support and more funding is pretty simple:
If a child has:
– One or fewer parents they are living with.
– are considered vulnerable – to either child trafficking, disease, poverty or any other issue that could put them at risk because of their "lot in life."
Then they are considered an orphan. Why? Because when the HIV/AIDS crisis first came out, the big organizations knew they were going to have to raise a LOT of money to fight the AIDS issue.
And they were right, they did need to raise a lot of money to fight AIDS. Whether it was all used for what it was supposed to be used for is a topic for another day.
But now ask yourself, if you are asked to help the orphans in Haiti and there are 300,000 of them, can't you almost picture an entire city of children without a family? It's awful. It's horrendous.
And it truly is. If it were true.
But what is really true is that of those 300,000 orphans, only around 30,000 of them are true orphans.
What's the definition of a true orphan?
A child who has no family members who are adults and are able to take care of them. That's a true orphan. The studies that I've read that have been done by large organizations – Lumos, UNICEF, Save The Children, World Vision, Compassion International all estimate that somewhere between 70% and 90% of the children currently in orphanages have family members who could care for them IF THE FAMILY MEMBER HAD A HAND UP.
That's right, 70 to 90% of the children who are suffering from life in an institution could be living with family – if the family members had some help.
What kind of help? Pretty much any type you can imagine……
Health care
Education
Child care
Employment
Job training
Literacy training
Home repair
Disaster recovery
It's by no means a guarantee, but odds are very good that if we can provide one (or more)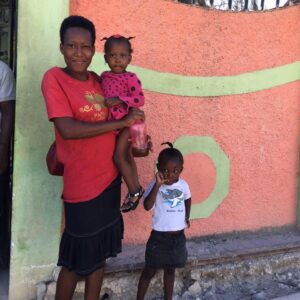 of those things to a family who is willing to care for a child. It could be their own child, it could be a niece or a nephew or a grandchild. If they are willing to care for them and we (that's you and me) can give them a hand up and help them with what's holding them back, we can keep that family together.
That's 250,000 children in Haiti who can potentially have mom or dad or grandma or Aunt Jo tuck them in bed at night.
That's a lot of kids who can grow up knowing that their family, the family they were born into, wants them and fought to keep them. As opposed to the ongoing struggle that many many adopted children wrestle with – "Why did my mom leave me?"
It's a fight, it's a struggle. We at the Apparent Project believe firmly that many children who are "given up" to orphanages don't have to be. We want to fight with their parents to keep them in their family.
And we need your help. Will you go to "Donate" and show our artisans that you will stand with them and help them stay as families?
On behalf of our artisans and their children, thank you.
Tom V