Two Stories……. Two Pictures…….
Story #1 – takes place behind a security wall a little ways outside of the city of Port Au Prince Haiti.   It's not as busy and as hot and as noisy as it is downtown, but it still is busy, hot and noisy – at least compared to most places in North America.
The guard opens the gate and you see Charlie.  He looks like he's maybe 5.  He's sitting over by the wall along with his friend Pierre.  Pierre looks a little bigger and a little older.   They are sitting rather quietly rolling a small ball back and forth between each other.  It's a rubber ball, a little smaller than a baseball.   Not hard enough to hurt but hard enough to bounce over the stones on the driveway and around the guard dogs that are pacing back and forth.   Every time the ball bounces away, Charlie and Pierre laugh and go chase it.   While there are nannies around, right now, no one is paying attention to Charlie and Pierre other than you.
Story #2 – takes place a little ways down the mountain and a couple of months later.  There's a tiny road/walking path off the main road up the mountain and you walk down that path.   You follow directions and turn up the even smaller path.  Around the bush and then over the rocks and your guide says, "Right there, that door."   You knock and say,  "Bon Jou" (Creole for "Good Morning").   A lady opens the door and wishes you a good day as well.   As she asks you if you'd like to come in, a little head peers around her side.   It's Charlie.   You and the lady and your interpreter sit down on the only three chairs in the entire 10 x 12 ft. house.   As soon as you do, Charlie climbs on the lady's lap and gives her a kiss and smiles……   She kisses him back and gives him a big hug.
You ask her, "How is Charlie doing?"    "He's doing well.   He loves being at home with his mom and helping with his little sister."
"How long have you lived here?"   "About three weeks"   (You are grateful for an interpreter because your knowledge of Creole is very limited.)
"Can I ask, the last time I saw Charlie he was up the mountain at the orphanage.  How were you able to bring him home?"
"My friend, Nadine, told me about The Apparent Project.  I walked there and met a lady at the door.  She sat down and talked with me and after she ask a lot of questions, she give me a job!"
Me, "That's awesome!"
"Yes, is very good.  After I worked a week, my friend Nadine brought me to the man who owns this place and I can rent it from him."
"Two weeks later, I had saved up enough money and I went to the orphanage and said to the orphanage boss, See, I can afford to care for my Charlie.  Please give him to me."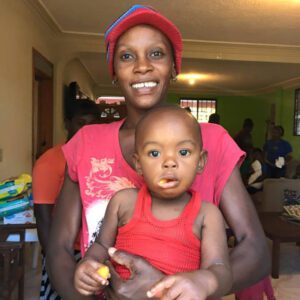 Mama smiles with tears running down her face, "Charlie, when he saw me, came running,  "Mama!!!!!!!!!!!"
Me, "Charlie are you happy to be home?"
"Oh, yes!  Oh, Yes!  Oh Yes!"
Charlie suddenly gets quiet, "But I miss my friend, Pierre.  Can they help his papa get a job too?"
Me again.   It's simple, but it's not.
For $______ a month, an orphanage can tell you that you can put a roof over Charlie's head, clothes to keep him warm and dry (well, it is Haiti after all) and provide enough food and decent medicine.   It's a no-brainer.   Of course you want to keep kids from starving to death.
That's picture #1 and it's an easy sell.
Now let's move to picture #2.
For $_____ a month, you can help send Charlie to pre-school (more coming on that soon).   Also, if you help us sell more jewelry, we can keep Charlie's mom employed and she can keep caring for her son and he can keep living with his Mom and having enough to eat and getting tucked in bed by his mom every night.   Charlie will be happier living with his mom, mom will feel better being able to have her kids together and no one has to deal with the trauma that comes from being abandoned.
That's picture #2.   It's not an easy sell.  It's not as clean and clear-cut as picture #1.  You can't say, "For $49.95, you can do this……."
Providing jobs, providing education, it's not simple.  It's messy, it's hard, but it makes a difference and it impacts lives forever.
Let's look at one more picture – picture #3.  It is 2027 and Charlie is all grown up.   He graduated from High School (more on that later) and is currently working at Papillon as a shipping manager while going to college part time.   He has a wife (they met at the AP Preschool) and one child with another on the way.   They are saving up money and hope to buy a place of their own, a place where they can raise their children.
Picture #1 is an easy sell.
Picture #2 is not an easy sell.   There are a lot more variables that are harder to balance, harder to track and harder to quantify.   But the long term benefits to the people involved, their family and the country as a whole make it much better.
Picture #3 is a vision of what Picture #2 can do.
So, who are you going to help?   I want to see Charlie grow up with his mom and his little sister…….
Tom
Save