This is going to start a series of articles that are going to look at Trauma and its role in raising kids.
If you had asked me to define trauma 15 years ago before we began the adoption process, my answer most likely would have consisted of two parts:
Injuries that occur because of war – bombs, bullets and such.
Injuries that occur because of accidents – car accidents, falling off the roof accidents, lawnmower accidents, tornadoes and so forth.
Well, I probably would have gotten at best a "C" grade on that question.   Those are indeed components of trauma – but there are many many more…….
The death of someone close to you – parent, sibling, spouse, grandparent, grandchild.
A sudden disruption of a family unit – divorce, deployment (parent gone in the military for months overseas)
A dysfunctional/abusive family relationship – this can go many different ways – sibling to sibling, parent to child, child to parent, other sibling to parent, spouse to spouse.  Any of those and countless others can cause trauma to any of the people involved.
Unstable living conditions – less than ideal housing, homelessness, fear of eviction, constant changing of location due to instability or fear.
Inconsistent caregiver relationships – not knowing if you can trust those who are supposed to care for you when you are a child (or younger).
A lack of a one on one caregiver relationship – even those under the age of one can be impacted if they don't know who is going to meet their needs when they cry.
A change in the voice that a baby hears from before they were born to after they were born.   Baby spends 9 months and learns to know mom's voice and then suddenly after he/she is born, not only is everything loud and bright, but rather than hearing the same voice, the person they felt was "always there" is gone and there is someone else there.
Abandonment – I'll tell you a story some time that still haunts me from 10 years ago about a child who was abandoned and the impact that had.   It doesn't matter the age, well, it might be worse when they are older, but at any age, abandonment can be a huge factor in trauma.
I'm sure there are many more, but that's a long enough list for now.
Now, I have a question for you.   I listed 10 of the major reasons for or components of trauma above.   How many of them can be impacted by the work of the Apparent Project?
1. It is possible that if someone is earning a decent wage, they can afford the medical care that would save their family member's life.
3. If a mom has an adequate income and the support of others, she might be able to leave a dysfunctional relationship and save her and her children from trauma and its effects.
4. If you are making a decent wage, you can usually afford decent living conditions.
5. Between a parent who cares about and works hard for their kids and Apparent Project day care so their kids are well cared for while they work, this can be reduced if not eliminated.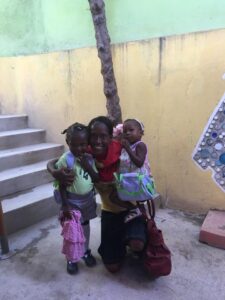 6. If a parent can be helped and supported through tough times, they can remain the primary care giver.
7 and 8 Both of these can be eliminated if parents are able and willing to care for their kids.   We can't help with the willing but we can help with the able.
We'll talk more over time about trauma, but I hope this illustrates something for you.
Out of the 10 possible components of trauma that I listed, the work that The Apparent Project is doing has a positive impact on 7 of them.
So there's a 70% chance that we can reduce or eliminate trauma through our work.
Will you join us?   Will you help us give Haitian families a better opportunity for a good life?
Host a party!  Have a fundraiser!  Or simply donate to our everyday work!  Go to www.apparentproject.org to find out more!
Save
Save
Save