So, like we talked last time, maybe 70% to 90% of the children living in orphanages are not orphans. That means that they have family. They have people who know about them and care about what happens to them. So what does that mean?
It means there are still a lot of orphans. If you take two generally accepted statistics about kids in Haiti you have the following:
There are approximately 32,000 "orphans" in Haiti.
Approximately 8,000 of them have no family members who can care for them.
That's a lot of kids who need help. If you were to put those 8,000 kids in foster care homes with a maximum of 10 kids each, it would take 800 homes to find enough to care for them. It is crucial that those children be taken care of and done in the best way possible.
It means that there are a lot of children living in an institution that could be living with family. 24,000 kids who have family who would like to care for them but can't. 24,000 children who live with someone who is not family.
24,000 children who will grow up wondering, "why didn't my mom want me?"
There is another part of this equation that we haven't touched on yet.
What about the family of the child who was brought to the orphanage?
Isn't calling it an orphan crisis ignoring families?
Isn't calling it an orphan crisis ignoring the desire that many families have to stay together but poverty and social injustice and economic calamities are preventing them?
Isn't calling it an orphan crisis ignoring the grief of a birth parent?
Yes, this is an orphan crisis. One child with no one to care for them is an orphan crisis.
Yes, there are times where adoption is the only option because there are no family present and available to care for the child.
But there are many children who are "caught up" in the orphan crisis who don't need to be.
And there are many families ripped apart by poverty, injustice and as we'll see more later, trafficking that could be kept whole and given the support to grow and heal and remain together.
For that to happen, we need to acknowledge three things:
Not all children in orphanages are orphans.
Many parents bring their children to an orphanage ONLY because they can't see a way for them to provide for their children.
Help the parents overcome the obstacles and families will flourish. Ignore the families and the cycle will continue.
Help us help the families in Haiti stay together. How?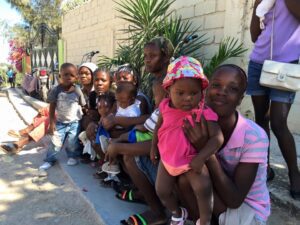 1.
Donate
– no matter how big or how small, any gift to the Apparent Project helps us help families stay together.
2. Share the news – whether it's by e-mail or social media or in person help us make more people aware of the difference they can make.
3. Shop – create demand for goods coming out of Haiti – whether it's jewelry or anything else, every sale helps. Go to insert ap party box here. Go to
market
haiti here.
Orphan Crisis – it's not just about orphans. It's about kids who have families and about families who need a hand up not a hand out……..