General Emergency Funds
We appreciate those who donate for emergency needs!
Mario is an example of someone who has housing & medical needs. He was followed to his home, then shot and robbed. In addition to extraordinary medical expenses, he was no longer safe where he live, and had to make a move. He runs the Clay Café, but his salary would never cover these expenses. This event occurred March 9, 2016. Donations to the General Emergency Fund will allow us to continue to help him, and others who have such overwhelming needs.
Mario's story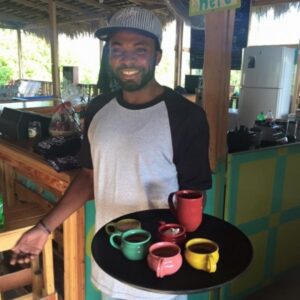 Mario Castin, aka Smoothie King, is known by many and loved by all. He is the first smiling face you see when you are in Haiti. He is a dear friend, invested mentor, doting son, loving father, and means so much to so many.
On Wednesday March 9th as Mario was in his neighborhood dropping someone off, he was approached by men with guns and shot – shattering his jaw bone. Thankfully, he was rushed to Bernard Mevs Hospital where they performed extensive surgery and stabilized him. The details of what's ahead are still being discussed. We know the road to recovery will be long and hard, but are confident that Mario will overcome every obstacle that's ahead.
We want to invite you to support Mario Castin's Road to recovery. Will you join us?
Mario's current needs are support with his medical bills, reconstructive surgery, housing, child care, and any other needs that may arise. We will be updating this page as we receive more details and look forward to sharing Mario's progress with all of you.
Thank you for intentionally choosing to support Mario Castin's Road to Recovery!
Help Provide General Emergency Funds