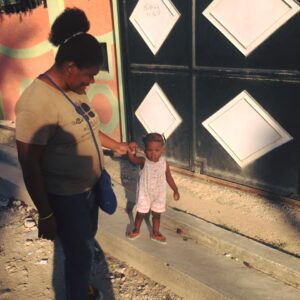 It's More Than Just Today…..
Often when I tell people what I do, I tell them the simple version – "I work for The Apparent Project and we help create jobs in Haiti that help families stay together and keep children out of orphanages."
That is 100% true.
But it's also 100% not the whole story.
Yes, we are about job creation. But job creation doesn't tell the whole story.
We're about family preservation. By giving people an employment future, we can help them keep their family together because they can afford to.
We're about building respect. By putting people to work rather than giving them a handout, we are building respect and self-esteem. Respect and self-esteem that these parents (our artisans) can pass on to their children.
We're about educating the future. When we educate our staff, we enable them to be contributing members of society. When we teach their children to think critically, we are positioning them to change their world.
We're about fostering emotional health. Many studies have shown that the trauma of adoption can leave lifelong emotional scars on a child. When we keep families together, we keep children emotionally healthier.
That answer doesn't quite meet the "elevator pitch" criteria (aka – can you tell someone what you do in the time it takes to ride three floors on an elevator?) but it's a much better and more complete picture.
Because what really matters is the impact that the job has on the entire family, not that particular job.
And that impact lasts for generations.
Tom V
apparentproject.org