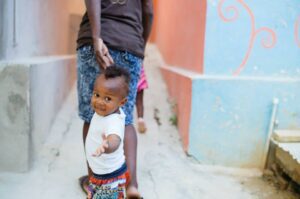 The first few times I heard the term "Orphan Prevention" I have to admit that my first reaction wasn't positive.   Orphans are children, they are very vulnerable and often very fragile.    Do we really want to prevent them?   Isn't that the type of thing that Germany in World War II was guilty of?
Then I realized that wasn't the type of thing that "orphan prevention" was referring to.  Whew, that made me feel better.   Let me walk you through the thinking behind the phrase……
Everyone has two parents when they are born.  Whether they are involved, care, want to be there for the baby, that's a totally different question.
As we've talked before, the true definition of an orphan is a child who has no family (parents, aunts, uncles, grand parents) around who are able and willing to care for them.   They might be willing but not able, they might be able but not willing.
So, what is "orphan prevention?"
Orphan prevention is doing the things that keep children out of the category of orphan.  It is doing the things that keep parents from saying, "I'm willing but I'm not able."
That includes job creation – so that parents can have the funds necessary to care for their child(ren).
That includes health care – because Mom can't care for her child(ren) if she's not relatively healthy and because kids need to be relatively healthy too.
That includes education – because if Mom can't read or can't afford to send her kids to school, then they lose hope for a future.
That includes helping with emergency housing – because if a Hurricane wipes out thousands of houses, most people in places like Haiti don't have the ability to pay for replacement and repair.
Orphan prevention – it's about keeping families together and giving parents the "able" so they can be both willing and able to care for their children.   Then children can grow up with their parents and when that's possible, a lot of pain and grief and struggle is avoided.
Orphan prevention – it's what The Apparent Project does.   There will always be situations where it's not possible but when possible, we want to prevent the tragedy and the pain.
That's why we do what we do.  That's why we want your help.   You'll be glad you did.   They will be glad you did.   Our artisans and their families will be glad that you did.
Thank you,